Lipoplasty (Liposuction) For Men Might Be Able To Help With Stubborn Fat Deposits.
Liposuction, commonly known as fat removal surgery, is a surgical procedure of shaping the body, removing stubborn fat deposits and leaving a more defined physique.
For men, there are common areas where fat just won't seem to budge, no matter how healthy you eat or how vigorously you exercise. Typically, this is around the flank or hips, abdomen, chest, neck and chin.
Advances in liposuction techniques have greatly improved the potential results in recent years — specialist surgeons like Dr Lim can now remove up to five litres of fat relatively safely in a single procedure.
During this procedure, Dr. Lim reshapes your body by removing stubborn fat deposits. He takes his time sculpting your new body, leaving you with a defined and masculine physique.
Individual factors and personal preferences will help you and Dr Lim to determine how much fat is to be removed and exactly where incisions will be made. This will be discussed during the consultation process.
Tiny incisions are made at the sites where fat is to be removed and a solution is infused to provide anaesthesia, reduce bleeding and improve fat extraction. Dr Lim uses various sizes and dimensions of extraction cannulae — hollow, tubular instruments with holes at one end — to trap the fat. The cannula is attached to suction tubing through which the fat is removed.
Dr Lim will do his best to minimise scarring, and the location and length of your incisions will be discussed with you in the consultation process.
Fat removal surgery is individually customised to each patient depending on their personal requirements — during the consultation period, Dr Lim will take you through all available options and possible outcomes.
Liposuction may take a few hours and is performed under general anaesthetic in an accredited hospital. Depending on the extent of the procedure and the amount of fat to be removed, you may be discharged on the day of the surgery or you will be required to stay in hospital overnight.
You will be provided with a supportive garment that will help decrease the bruising and swelling, which must be worn for a few weeks after the surgery. Dr Lim will review you post-operatively and will prescribe analgesia and antibiotics for you to continue at home.
My Klinik staff will stay in touch with you after the procedure, monitor your progress and answer any questions or concerns as they arise. You'll have reviews with Dr Lim one week, one month and three months after surgery.
Our goal is to make your experience as supportive as possible — Dr Lim and the My Klinik staff are always willing to answer any questions you may have.
Dr Lim's 2023 Abdominoplasty Guide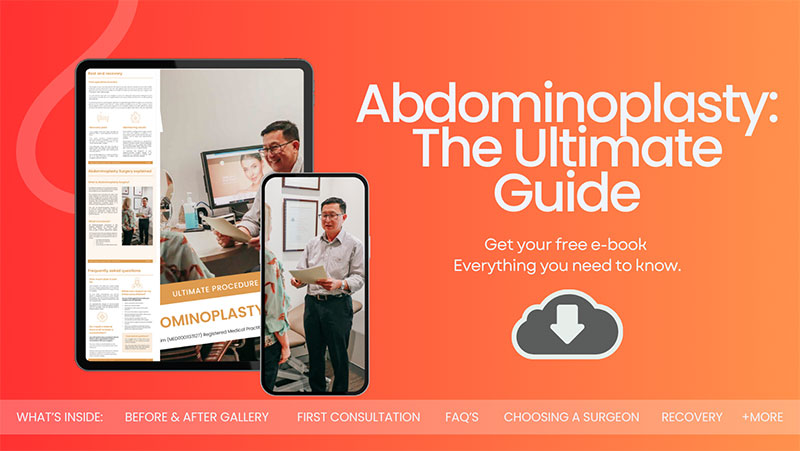 Pre and Post-Operative Care
Want to know more?
Due to Australian medical guidelines we are unable to publish reviews and testimonials on our website. This is to ensure any opinions or information you read comes from an unbiased and unedited source. Though this is the case, we understand that reviews and testimonials are a very important part of your decision-making process when selecting a specialist plastic surgeon. Please contact the My Klinik team for further information.
About Dr Jake Lim
Highly qualified and experienced specialist plastic surgeon Dr Jake Lim focuses on facial plastic, cosmetic breast and body contouring after significant weight loss
Dr Lim creates the best possible plastic surgery results for his Australia-wide and international patients.
Dr Lim is passionate about making sure each and every patient has access to the right information about available treatments and procedures and is able to make well-informed decisions.
At My Klinik, patient safety, education and achieving optimal results are our top priorities.