An Abdominoplasty (tummy tuck) can Help Post Pregnancy or Post Weight Loss.
A tummy tuck, also known as abdominoplasty, is designed for those unable to remove excesss skin and fat on their stomach. This procedure is an option for women who have had children and are looking to tighten the abdominal wall. During a tummy tuck, excess fat and loose skin are removed and underlying muscles are tightened and repositioned.
The best candidates for a tummy tuck are patients who are in good shape, are not overweight, but have loose abdominal skin. This is commonly seen in women whose abdominal muscles and skin have been stretched out from multiple pregnancies, as well as people who have a loss of skin elasticity due to age or weight fluctuations.
Women who are planning future pregnancies may be advised to wait, as the vertical muscles in the abdomen that are tightened in surgery will tend to separate again during pregnancy.
If there is a large fat accumulation on the abdominal wall, especially along the upper part, abdominoplasty can be combined with liposuction to remove the fatty layer. As everyone is different, Dr Lim will develop a personalised surgical plan that focuses on your current condition and goals.
When considering a tummy tuck, before and after images can be extremely helpful, so be sure to check out the gallery below.
The exact procedure used for a tummy tuck will differ from patient to patient, depending on a number of factors including the expectation and the elasticity of the skin.
The most common technique used involves an incision made across the lower abdomen, extending to the hip on each side. This incision can be angled to make the scar easier to conceal. Dr Lim will tighten the vertical muscles in your stomach by pulling them close together and stitching them into position. Extra skin and fat is also removed.
Dr Lim will do his best to minimise scarring, and the location and length of your incision will be discussed with you in the consultation process.
Abdominoplasty may take a few hours and is performed under general anaesthetic in an accredited hospital. You will be required to stay in hospital for a few days following your surgery.
Patients who have a tummy tuck require drains to be inserted during the surgery, to prevent the accumulation of fluids and blood within the surgical wounds. You will be able to go home once the amount of drainage output subsides and your pain has settled. You will usually go home with the drains and they will be removed about a week after surgery.
You will be provided with a supportive garment that will help decrease the bruising and swelling, which must be worn for six weeks after the surgery. Dr Lim will review you post-operatively and will prescribe analgesia and antibiotics for you to continue at home.
My Klinik staff will stay in touch with you after the procedure, monitor your progress and answer any questions or concerns as they arise. You'll have reviews with Dr Lim one week, three weeks, one month and three months after surgery.
Our goal is to make your experience as supportive as possible — Dr Lim and the My Klinik staff are always willing to answer any questions you may have.
Dr Lim's 2023 Abdominoplasty Guide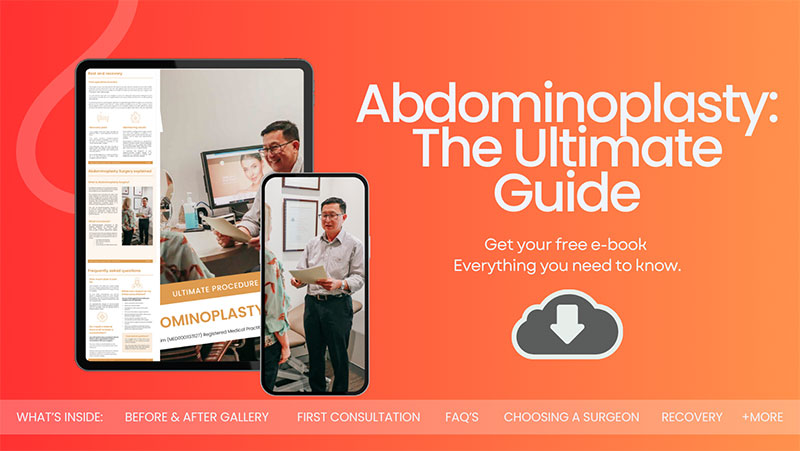 Body Contouring Post Weight Loss Assessment
Ask Dr Lim if you are a suitable candidate for body contouring post weight Loss Surgery with a online assessment.
With a few simple photos, you can save time and the convenience of a COVID-safe online service to find out if you might be a good candidate for a lower truncoplasty body lift or abdominoplasty (tummy tuck).
As an experienced plastic surgeon in body contouring post weight loss surgery, Dr Lim will be able to answer your initial questions and see from your images if a body contouring post weight loss procedure might work for you.
Abdominoplasty (Tummy Tuck)
Before & After
This gallery contains photos of consented patients of Dr Jake Lim and My Klinik and have not been altered or digitally enhanced.
Outcomes shown are only relevant for this patient and do not necessarily reflect the results other patients may experience, as results may vary due to many factors including the individual's genetics, diet and exercise. All surgery carries risk. Before proceeding, you should seek a second opinion from an appropriately qualified medical practitioner.
Actual patient images are © property of Dr Jake Lim. Please note: some medical images may contain ADULT content and is not suitable for anyone under the age of 18 years and may not be suitable for all adults. View at your discretion.
Pre and Post-Operative Care
Tummy Tuck Videos
Click on the button below to view the videos
Want to know more?
Due to Australian medical guidelines we are unable to publish reviews and testimonials on our website. This is to ensure any opinions or information you read comes from an unbiased and unedited source. Though this is the case, we understand that reviews and testimonials are a very important part of your decision-making process when selecting a specialist plastic surgeon. Please contact the My Klinik team for further information.
About Dr Jake Lim
Highly qualified and experienced specialist plastic surgeon Dr Jake Lim focuses on facial plastic, cosmetic breast and body contouring after significant weight loss
Dr Lim creates the best possible plastic surgery results for his Australia-wide and international patients.
Dr Lim is passionate about making sure each and every patient has access to the right information about available treatments and procedures and is able to make well-informed decisions.
At My Klinik, patient safety, education and achieving optimal results are our top priorities.