Corset Abdominoplasty, also known as Corset Trunkplasty or Corset body lift, is a specialised surgical procedure.
You may have heard of abdominoplasty, commonly referred to as a 'tummy tuck', but are you familiar with its more precise counterpart, corset abdominoplasty? This surgical procedure is offering a unique approach to abdominal contouring. Corset Abdominoplasty, also known as Corset Trunkplasty or Corset body lift, is a specialised surgical procedure aimed at individuals who have undergone significant weight loss and are left with excess, sagging skin around the abdominal area. Unlike traditional tummy tucks, this innovative technique employs a 3-vector plication method to tighten not just the vertical rectus muscles but also the oblique muscles on the sides of the abdomen. The result is a comprehensive realignment and 'corseting' of the abdominal muscles, which creates a more defined waistline.
What Is Abdominoplasty?
Before we delve into the specifics of corset abdominoplasty, it's crucial to understand the broader concept of abdominoplasty. Abdominoplasty is a surgical procedure aimed at improving the appearance of your abdomen. It does this by removing excess skin and fat from the lower and middle abdomen to tighten the muscles of the abdominal wall.
Abdominoplasty is often sought after by those who have experienced significant weight loss or pregnancy, resulting in sagging or loose skin. It's also an option for those who struggle with stubborn fat deposits that resist diet and exercise. Remember, abdominoplasty is not a weight-loss procedure. Instead, it's a body contouring method that enhances your abdominal area's aesthetics.
What Is Corset Abdominoplasty?
Now that you know what abdominoplasty is, let's explore the specific procedure of corset abdominoplasty. As the name suggests, corset abdominoplasty is a type of tummy tuck that mimics the effect of wearing a corset. This procedure creates a more defined waistline and a flatter abdomen, offering a superior aesthetic outcome compared to conventional tummy tucks.
Corset abdominoplasty involves an additional step of suture plication, creating a 'corset' pattern across the stomach muscles. This additional step enhances the waist tightening effect, giving you a more hourglass figure. Unlike traditional abdominoplasty, corset abdominoplasty targets both vertical and horizontal abdominal muscles, ensuring an all-around contouring result.
Corset Abdominoplasty offers a range of benefits that make it a popular choice for individuals looking to improve the appearance and function of their abdominal area. Here are some of the advantages:
1. A More Defined Body Contour
One of the most significant benefits of Corset Abdominoplasty is the improved body contour it provides. By tightening both the vertical and horizontal abdominal muscles, the procedure creates a more defined waistline.
2. Muscle Repair
Corset Abdominoplasty is particularly beneficial for those who have experienced muscle separation due to pregnancy, weight fluctuations, or ageing. The procedure helps to repair and suture these separated muscles, restoring both function and appearance.
3. Excess Skin Removal
For individuals who have lost a significant amount of weight or have excess skin due to ageing or pregnancy, this procedure effectively removes the sagging skin, leaving a smoother and firmer abdominal area.
4. Improved Posture
The tightening of abdominal muscles can also lead to improved posture. A stronger core supports the spine better, potentially alleviating back pain and improving overall posture.
5. Long-Lasting Results
When combined with a healthy lifestyle, the results of a Corset Abdominoplasty can be long-lasting. Maintaining a stable weight and regular exercise can help you enjoy the benefits of the procedure for many years.
6. Customisable
The procedure can be tailored to meet your specific needs and goals. Whether you're looking to remove excess skin, tighten muscles, or achieve a more defined waistline, Corset Abdominoplasty can be customised to deliver the results you desire.
7. Potential for Combined Procedures
Corset Abdominoplasty can be combined with other cosmetic procedures, such as liposuction or breast augmentation.
8. Improved Comfort and Mobility
By removing excess skin and tightening the abdominal area, many people find that they experience less skin irritation and improved mobility, making everyday activities more comfortable.
So, who is a good candidate for a corset abdominoplasty? Generally speaking, you are a good candidate if you are in good overall health, have realistic expectations, and are at a stable weight. This procedure is particularly beneficial for those with a wide waistline or a protruding abdomen that doesn't respond to diet and exercise.
Women who have gone through multiple pregnancies may find corset abdominoplasty helpful. Moreover, those who have undergone significant weight loss and are left with loose, sagging skin can also benefit from this procedure.
The corset abdominoplasty procedure begins with an incision in the lower abdomen, similar to a traditional abdominoplasty. The skin is then lifted, exposing the underlying muscles. Dr Jake Lim will then tighten these muscles using sutures, creating a 'corset' effect.
The next step involves removing excess skin and fat. Once this is done, the skin is re-draped over the newly sculpted abdominal area, and the incision is closed. The entire procedure can take a few hours and is performed under general anaesthesia.
Preparing for a Corset Abdominoplasty
Before undergoing corset abdominoplasty, it's essential to prepare. Start by discussing your goals and expectations with Dr Lim. He will provide you with detailed instructions on what to do before the surgery.
Generally, you will be advised to quit smoking and avoid certain medications that can increase bleeding. You may also need to undergo a few lab tests to ensure you are in good health for the surgery.
After the surgery, you should expect some swelling, bruising, and discomfort. Dr Lim will provide you with specific instructions on how to care for your surgical site and manage pain.
Most people can return to non-strenuous work within two weeks, while full recovery can take several weeks. During this time, you should avoid strenuous activity and follow a healthy lifestyle to ensure optimal results.
Like any surgical procedure, corset abdominoplasty comes with potential risks and complications. These may include infection, bleeding, poor healing, and changes in skin sensation.
Dr Lim's 2023 Abdominoplasty Guide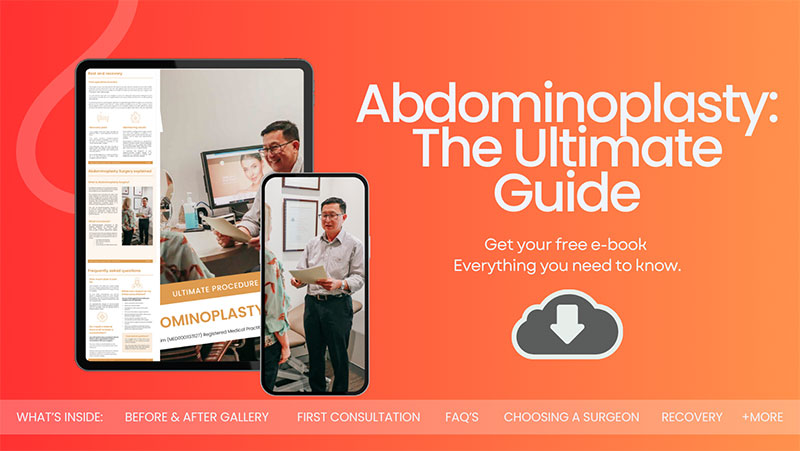 Pre and Post-Operative Care
Corset Abdominoplasty (Tummy Tuck) FAQs
Want to know more?
Due to Australian medical guidelines we are unable to publish reviews and testimonials on our website. This is to ensure any opinions or information you read comes from an unbiased and unedited source. Though this is the case, we understand that reviews and testimonials are a very important part of your decision-making process when selecting a specialist plastic surgeon. Please contact the My Klinik team for further information.
About Dr Jake Lim
Highly qualified and experienced specialist plastic surgeon Dr Jake Lim focuses on facial plastic, cosmetic breast and body contouring after significant weight loss
Dr Lim creates the best possible plastic surgery results for his Australia-wide and international patients.
Dr Lim is passionate about making sure each and every patient has access to the right information about available treatments and procedures and is able to make well-informed decisions.
At My Klinik, patient safety, education and achieving optimal results are our top priorities.