Fleur de Lis Abdominoplasty involves the removal of excess skin and fat from the mid and lower abdomen.
You may have come across the term "Fleur de Lis Abdominoplasty" if you've been exploring body contouring options. This is a specialised surgical procedure involving the removal of excess skin and fat from the mid and lower abdomen. It is primarily designed to tighten the muscles of the abdominal wall, offering patients a slimmer, more toned appearance. The Fleur de Lis Abdominoplasty, named after the stylised lily or iris associated with the French monarchy, differs from traditional abdominoplasty techniques in its distinctive vertical and horizontal incisions that create a "fleur de lis" pattern. This procedure is particularly beneficial for individuals who have undergone massive weight loss and are left with significant, stubborn skin laxity.
What Is Fleur de Lis Abdominoplasty?
The Fleur de Lis Abdominoplasty procedure is performed under general anaesthesia. Unlike traditional abdominoplasty, it involves two incisions: one running vertically down the centre of the abdomen and another running horizontally across the lower abdomen. The intersection of these incisions forms a "fleur de lis" pattern, allowing for a more extensive removal of excess skin and fat.
Dr Jake Lim then tightens the underlying abdominal muscles and repositions the navel to ensure a natural-looking result. The incisions are closed with sutures, and the area is bandaged. The procedure usually takes between three to five hours, depending on the individual's condition and the extent of correction required.
The Fleur de Lis Abdominoplasty offers a range of benefits, particularly for individuals who have undergone significant weight loss or have excess skin and fat in both the horizontal and vertical planes of the abdomen. Here are some of the advantages:
· Improved Aesthetic Appearance
One of the most immediate benefits is the enhanced aesthetic appearance of the abdomen. The procedure removes excess skin and tightens the remaining skin, resulting in a flatter, more toned midsection.
· Enhanced Comfort and Mobility
Excess skin can cause discomfort and even mobility issues. By removing this skin, the Fleur de Lis Abdominoplasty can make it easier to move around, exercise, and engage in physical activities.
· Reduction in Skin Irritation and Infections
Excess skin can lead to skin irritation, chafing, and even infections in the folds of the skin. The removal of this skin can alleviate these issues, making for a more comfortable daily life.
· Potential Improvement in Posture
The tightening of abdominal muscles during the procedure can sometimes result in improved posture, although this is not guaranteed for every patient.
· Long-Lasting Results
The results of a Fleur de Lis Abdominoplasty are generally long-lasting, especially if you maintain a stable weight and healthy lifestyle.
· Customised Approach
The Fleur de Lis technique allows for a more customised approach to body contouring, as it addresses excess skin in both the vertical and horizontal dimensions. This makes it particularly beneficial for those who have unique or extensive contouring needs.
You may be wondering if you're a good candidate for the Fleur de Lis Abdominoplasty. Good candidates are individuals who have undergone significant weight loss and are left with excessive loose skin on the abdomen. It's usually suitable for individuals who had bariatric surgery.
Furthermore, candidates should be in good overall health, non-smokers, and have realistic expectations about the procedure's outcomes. It's crucial to consult with an experienced plastic surgeon to determine if this procedure is the right choice for you.
Preparing for Fleur de Lis Abdominoplasty
Preparing for the Fleur de Lis Abdominoplasty involves several steps. Dr Lim will perform a comprehensive physical examination, review your medical history, and discuss your aesthetic goals. You may need to stop taking certain medications or supplements before the surgery.
It's recommended to maintain a healthy diet and regular exercise regimen before the procedure. Also, arrange for someone to drive you home post-surgery and assist you with daily tasks during the initial recovery period.
Here are the main steps of the procedure:
The procedure is usually performed under general anaesthesia, meaning you'll be unconscious during the surgery.
Dr Lim starts by making a horizontal incision along the lower abdomen, just above the pubic area. This is similar to the incision made in a traditional tummy tuck – abdominoplasty. An additional vertical incision is then made from the lower abdomen to the sternum, creating a 'fleur-de-lis' shape. The length and position of these incisions can vary depending on the amount of excess skin to be removed.
Removal of Excess Skin and Fat
Once the incisions are made, Dr Lim will carefully remove the excess skin and fat. Liposuction may also be used to remove additional fat deposits.
The abdominal muscles are often tightened during this procedure. Dr Lim will suture the muscles together to create a firmer, flatter abdominal wall.
Skin Redraping and Closure
After the excess skin and fat are removed, and the muscles are tightened, the remaining skin is redraped over the new abdominal contour. The incisions are then closed using sutures, and drainage tubes may be inserted to help remove any excess fluid.
A compression garment is usually applied immediately after the procedure to help reduce swelling and support the healing tissues.
The recovery process after Fleur de Lis Abdominoplasty takes several weeks. You'll need to rest and avoid strenuous activities for at least four weeks post-surgery. It's crucial to wear a compression garment as it aids in reducing swelling and supports the healing tissues.
Dr Lim will provide specific post-operative care instructions, including wound care, physical activities, diet, and follow-up appointments. Adhering to these guidelines will help ensure a smooth recovery and optimal results.
Like any surgical procedure, the Fleur de Lis Abdominoplasty carries risks and potential complications. These include infection, bleeding, poor wound healing, changes in skin sensation, scarring, and complications related to anaesthesia.
Dr Lim's 2023 Abdominoplasty Guide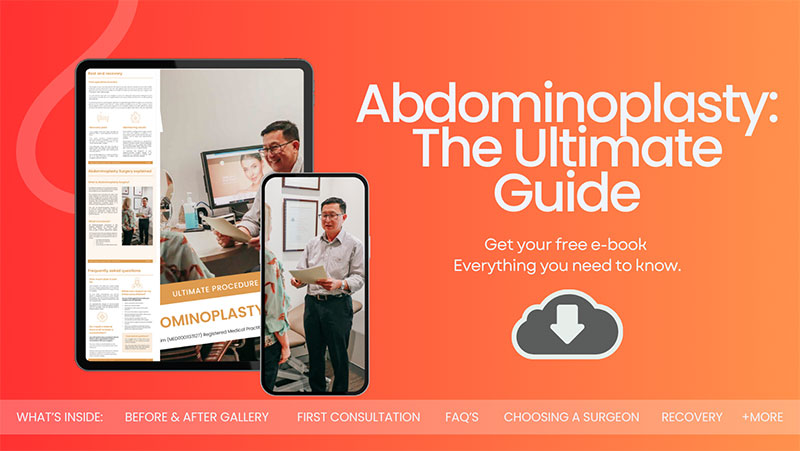 Body Contouring Post Weight Loss – Fleur de Lis Abdominoplasty
Before & After
This gallery contains photos of consented patients of Dr Jake Lim and My Klinik and have not been altered or digitally enhanced.
Outcomes shown are only relevant for this patient and do not necessarily reflect the results other patients may experience, as results may vary due to many factors including the individual's genetics, diet and exercise. All surgery carries risk. Before proceeding, you should seek a second opinion from an appropriately qualified medical practitioner.
Actual patient images are © property of Dr Jake Lim. Please note: some medical images may contain ADULT content and is not suitable for anyone under the age of 18 years and may not be suitable for all adults. View at your discretion.
Pre and Post-Operative Care
Fleur de Lis Abdominoplasty (Tummy Tuck) FAQs
Want to know more?
Due to Australian medical guidelines we are unable to publish reviews and testimonials on our website. This is to ensure any opinions or information you read comes from an unbiased and unedited source. Though this is the case, we understand that reviews and testimonials are a very important part of your decision-making process when selecting a specialist plastic surgeon. Please contact the My Klinik team for further information.
About Dr Jake Lim
Highly qualified and experienced specialist plastic surgeon Dr Jake Lim focuses on facial plastic, cosmetic breast and body contouring after significant weight loss
Dr Lim creates the best possible plastic surgery results for his Australia-wide and international patients.
Dr Lim is passionate about making sure each and every patient has access to the right information about available treatments and procedures and is able to make well-informed decisions.
At My Klinik, patient safety, education and achieving optimal results are our top priorities.